Domaine Comte Georges de Vogüé
Cote de Nuits – Chambolle Musigny
The origin of the domaine goes back to 1450. The vineyards have been passed on for 19 generations in same family. Comte Georges de Vogüé inherited domaine at his fathers' death in 1925.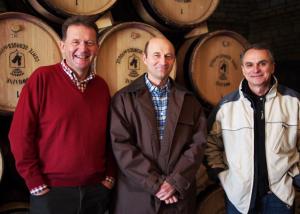 Then his single daughter, Elisabeth, baronne Bertrand de LADOUCETTE, became in 1987, at his fathers' death manager of domaine.
She is helped by: Eric BOURGOGNE, vineyard manager, François MILLET, the oenologist and Jean-Luc PÉPIN, the sales manager.
The vineyards are all located on CHAMBOLLE MUSIGNY village and include: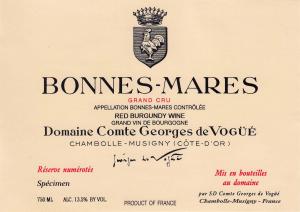 – Musigny Grand Cru (7.20 hect)
– Bonne Mares grand Cru (2.70 hect)
– Chambolle Musigny and Chambolle Musigny 1er cru (2.70 hect) Average age for the vineyards is 40 years and 50 years for MUSIGNY.
Domaine is always aiming at top quality, for complex and concentrated wines.
The reds macerate between 15 en 30 days and are aged average 18 months in oak barrels (with a flexible percentage of brand new oak barrels depending on vintage and wines) if necessary, traditional egg fining is made.
About 75% of production is exported.