Château Angludet
A member of union of grands crus.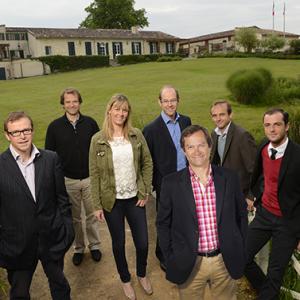 Chateau history goes back to 1273, at time of first lord of Angludet. The first records of a noble residence on the estate of Angludet (which means « angle of high land ») date back to 1150. Most probably, the first vines were planted at the beginning of 17th Century.
In 1932, Château Angludet was one of six châteaux to be promoted to the rank of Cru Bourgeois Exceptionnel.
After Management for 20 years under Paul Six's (an industrialist), chateau was sold to Mr Thomas and then in 1961 to the Sichel family. Today chateau Angludet is the seat of the Sichel Family.
Location
Part of the AOC Margaux appellation and lying 30km north-west of Bordeaux, the vineyard of Château Angludet is situated on a broad plateau of Garonne gravel deposits which it shares with the neighbouring Grands Crus.
Château Angludet overlooks the lower-lying land of the Gironde estuary, just three kilometres away.
Vineyard
The Château Angludet spreads over 32 hectares planted with vines.
46% Cabernet Sauvignon – 41% Merlot – 13% Petit Verdot
TASTING COMMENTS (From the château)
Château Angludet is a fine, elegant wine. At each vintage, we seek to achieve the ideal balance between the fruit, the structure, the tannin and the freshness afforded by acidity to guarantee outstanding ageing potential. Angludet's great aromatic finesse becomes apparent from the 3rd year after harvest and continues to develop for decades.
Beautiful, deep red with black tints. The nose is ripe and elegant, with fruit predominating.
With the 2008 vintage, Château d'Angludet changed its name to Château Angludet.
Average annual production : 120 000 bottles
Ageing potential : between 10 to 20 years and up to 50 years for the best vintages.
Best served at 17° to 18° over red meat, game, slightly spicy foods, cheese.