Le Vieux Donjon
Châteauneuf du Pape
Story
Domain was set up in the 20's by the great grand father. Since 2007, Claire Michel, and since 2012 her brother Francois are in charge.
Domain spreads over 16 hectares, of which 10 hectares on the beautiful rolled stones plateau.
Most vineyards are over 50 years old, and a great part of the Grenache is around 100 years old.
7Since the beginning of the estate, vinification has remained very traditional. White wines are aged for 5 months and bottled right after in spring.
Reds are destemmed for 50 % and after long cuvaison, are aged in foudres (big barrels) of 50 hectoliters for a period of 18 months.
THE LAND
• CHATEAUNEUF DU PAPE Red is produced on 15 hectares land
• CHATEAUNEUF DU PAPE White is only produced on 1 hectare land
THE VINES
For the Whites:    
50% Roussane – 50% Clairette
For the Reds:
75 % Grenache – 10 % Syrah – 10 % Mourvedre
5 %  Various blends (Cinsault)
Average yields are 30 hectoliters.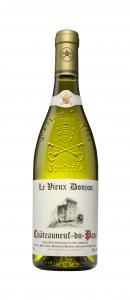 A UNIQUE STYLE
Vieux donjon, whose most production is exported, is unique :
Vieux Donjon makes only one cuvee red, one cuvee white. Whereas many produces keep some of their best production for top cuvee, Vieux Donjon is proud to show only one top cuvee. Vieux Donjon does not select the best of their cuvees but is working every day to produce a high quality wine. Vieux Donjon is a very traditional family, not looking for Prestige wines at outrageous prices, but for top quality, with value. Wines produced offer a regular quality, are fine, elegant, pleasant even when young, while their ageing potential is great.  Vieux Donjon is looking for a pure wine, with complexity.
Some press comments :
French and international press reward very regularly Vieux Donjon. Last wine is Revue des Vins de France which just Awarded Vieux Donjon ,  3 STARS (out of 3).