Domaine Philippe Leclerc
Gevrey-Chambertin – Côte d'Or
HISTORY :
Domaine  Philippe Leclerc was first set up by the father. At his death, the two sons Philippe and Rene inherited the land which was split into two parts, as the two brothers did not have the same idea for aging wine. Philippe is the younger one. Philippe's look is unique like his cellars. Philippe has 3 passions in life: family, wine and stones.
Philippe started making wine when he was 14 with his father.
Wines and stones are linked. In order his adored bottles age in the best conditions, he is renovating old cellars.
Philippe has bought the whole street where he is living in order to connect all cellars. As a result, he has achieved probably the largest cellars in Gevrey Chambertin. Décor is gothic, Philippe's style.
Philippe is a very lively, dynamic man. A little bit stubborn but the cooperation between an energetic, also stubborn Corcia has worked well.
After many years of discussion, exchanges, Philippe is gradually moving to new vinification style, for the best. Wines he is making now are far easier approach than in the past, although they remain full body with high fruit. Philippe is a smart grower who accepts discussion for improvement and who is ready to listen to his customers.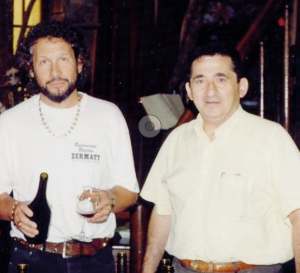 VINIFICATION :
According to PHILIPPE LECLERC :
Everything starts with the wine and knowing whether the soils are well balanced on in need of mature. New wines must be planted with seedlings that are going to give quality rather than quantity. Dead vines should be replaced periodically instead of ripping up whole vineyards. At harvest time patience is needed whilst waiting for the optimum maturity of the grapes.
Philippe likes to stress out his principles :
– Respect of nature and soil-viniculture towards organic rules
– Small yields
– Hand harvest and patience to pick at right time. Careful picking, sorting out and crop taken with care to the cuverie.
Traditional vinification: crop stays for 3 weeks in vat 1st week for cold maceration and the d weeks for fermentation..
During these three weeks, the cap of skins that constantly rises to the top of the vat is trotted down by foot 3 times a day, pushing the skins in contact with the juice and so thereby extracting colour and matter from the pulp of skins. The original white juice thence begins to turn colour whilst the sugars transform into alcohol.
After this period is over with, wine is left to settle some time before running it off into oak barrels, where it is aged for up to 2 years.
100% new oak is used to age the Premiers Crus wines whilst all other appellations are aged in oak barrels of between 30 to 50% new wood. Except Bourgogne rouge for which only 15%  new oak is used.
After the twice monthly toping up of the barrels and a few racking, bottling finally comes  with no filtering nor fining.
Any small amount of sediment or deposit that occurs in the bottle will allow the wine to feed in its presence, especially when left to age for several years. Advice is to age the wines between 5 to 10 years in an average vintage and for between 10 to 20 years in more favorable ones.