Domaine Georges Vernay
Northern Rhone – Condrieu
Vernay's wines have always had a unique style. Three generations of wine makers have always provided wines with great finesse and elegance. Today, Christine Vernay, an exceptional wine maker, perpertrates tradtition and quality, in respect of nature. Christine Vernay has constantly been improving quality. Production still is done only by hand, with no use of weed killers or insecticides.
Production includes whites and reds , all in rather limited quantity.
Condrieu, Coteau de Vernon over 2 hect. of vines between 50 and 80 years old, for an average production of 8000 bottles
Condrieu, Chaillées de l'enfer over 2 hect. Of vines over 50 years old for about 7000 bottles produced per year.
Condrieu, Terrasses de l'Empire, with vines over 35 years old and a confidential production of 2000 bottles
Cote Rotie, Maison rouge over 2 hectares of vines over 50 years old and 8000 bottles produced per year.
Cote Rotie, Blonde du Seigneur for a production of 15000 bottles coming from vines over 30 years old.
Saint Joseph Terre d'Encre with vines over 30 years old and 7000 bottles produced.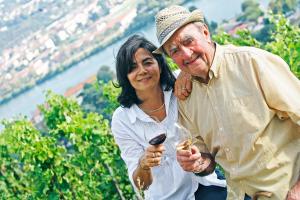 Finesse, Elegance and Harmony
for three generations
A pioneer in the renewal of the Condrieu appellation, Domaine Georges Vernay has always made wines of unique style, notable for their finesse, elegance and harmony. The property has become a major emblem of Rhone Valley winegrowing, from the time when Georges Vernay saved the Condrieu appellation to the international awards earned by Christine Vernay's Côte-Rôtie. Three generations have left the mark of the philosophy on the estate, while perpetuating its traditions in the greatest respect for both vines and winegrowers.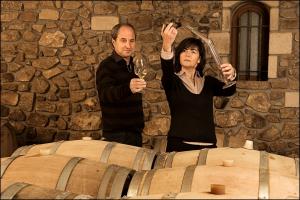 Arts, culture and wine
Working the vines and making good wine is a long tradition in the Rhone Valley. This history, going back almost 2,000 years, still substantially influences the estate's philosophy. Each wine bears a part of this heritage, especially the Condrieu "Terrasses de l'Empire" whose name echoes the time when the Rhone was a frontier between the Holy Roman Empire and the Kingdom of France. Christine Vernay and her husband Paul Amsellem, both lovers of jazz and classical music, bring people together around wine and music through a major biannual event held at their property, with international artists. Wine and music create unique moments. Both of them symbolise sharing; both of them are arts that draw people and civilizations together. Domaine Georges Vernay imparts these values into every wine it produces.